The Brief
As a relatively new business, the biggest issue for Alpha Construction was that they had no online presence at all. No rankings in Google, no online articles, no Google My Business or anything to show their capabilities. While they had been working hard on their branding, some collateral and signwriting, it was time to start working on their website.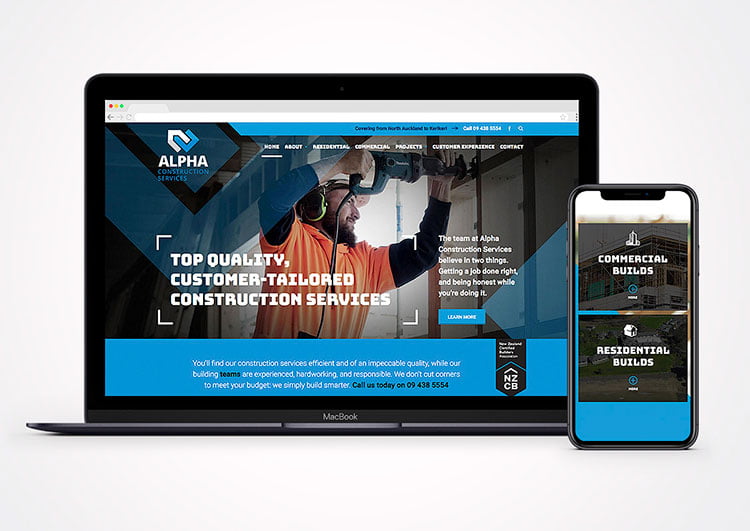 Our Solution
Planning the website with Marketing Manager Jared Cutforth made the project easy as he was the person dedicated to project manage. Jared also had a clear understanding of their market position and who their target audience was – these are always great foundations for planning a website, from the tone of the content to design and function.
Professional copywriting was written to highlight one of their best assets – customer experience. Team profiles for key staff were written as well as project case studies. They further qualified their expertise by engaging a professional photographer to shoot their own images for the website. With these quality components our designer had all the right tools to compose an exemplary design – and Alpha Construction loved it!
Building the website utilised some modern website techniques and focused on how the website best satisfies the needs of a potential new customer. Once the site was ready to go live, all final tests and checks were completed including full mobile friendly testing and proof reading.
Combined with the keyword research and professional copywriting our Google guru gets to work adding the key SEO components to the backend of the website. This ensures that each page is optimised the best it can be to be found in Google searches. Setting up a Google My Business page and Google Console are two tools that we use to assist in this process.
Providing website training is vital to the success of a website to keep the content fresh and up-to-date. Alpha Construction has been given full login access and shown how to update text and images. Our focus with Alpha Construction now is to market their website online and the most effective strategies to help their website deliver results!