Money can't buy you happiness
Many of you may have wondered: Hugo has a girlfriend? How long have they been together for and what is their secret to remaining so much in love?
The answer is simple and we can all relate to it: he treats her like she is special and makes sure their spark stays alive. He puts his A-game on and showers her with the right gift at the right time: Chocolate and flowers for Valentines, a trip to Paris for their 2-year anniversary, a romantic picnic at the beach… Hugo knows when to give their relationship a little boost. Many other monsters have tried to get Daphne's attention, but Hugo's good looks and great personality make him Daphne's #1.
Hugo's tip to you all: A little dollar well spent, to show you are thinking of your loved one, will ensure you are in pole position of their hearts.
And once again you wonder, how does Hugo's and Daphne's love life relate to your website, your business and to your businesses performance? It is very simple: Everything needs a little boost from time to time, and you need to keep investing to keep it growing. This includes your website: it's called online marketing and this month we will look into Google's paid advertising called Google Ads.
What is Google Ads
For those who don't know what Google Ads is: it's Google's way of making money by allowing you to advertise on the search result page. You are paying to appear in those 4 prime positions at the top of a Google search page. You take part in a bid system and a little green coloured "AD" sign will appear next to your ad.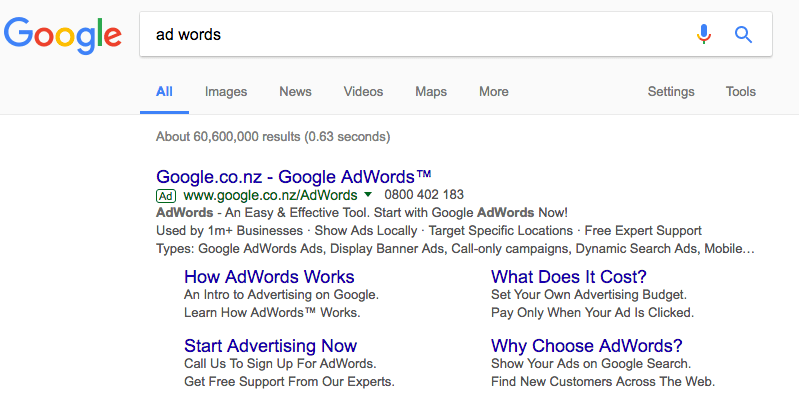 Just like Hugo, you invest dollars to be at first sight of your loved one… well in your case, your prospective customers.
Love at first sight
When investing in Google Ads, you are giving your website and business a little boost. You will appear amongst the 4 first positions on Google and your future customer will see you first – it's almost like love at first sight. Your business and services will be right there at the top, and with our human expectation for instant results this is more important today than it has ever been before. Google Ads takes care of the "at first sight" part and then it's over to your website's great personality to do the rest of the work.
Fast forward your way to the top!
So how does Google decide who gets the pole position? Google Ads uses a bid system. You choose keywords that are relevant to your business and place a bid on each word. Those bids can vary from a few cents to a few dollars depending how popular they are.
Google's little helpers (a fancy algorithm) will now look at two things to decide if and where to show your ad:
1.     the amount ($) you bid on that particular keyword and
2.     the quality of your website (relevant to the same keywords)
These two factors will determine whether your ad is going to be displayed at all, but also decides at which of the 4 positions you will appear/rank. You think, easy as. The higher my bid the higher I rank.
Fair play – money can't buy happiness
Not quite that easy. Google won't let you cheat your way up to the top! The keywords you choose must be relevant to the words that you have used on your website pages. Good quality content and matching choice of relevant keywords will pay off.
This means you will pay less and appear at a higher position when someone searches for something (a service) you have a page for. If your wondering how Google determines the quality rank of your website, you can read last month's article on good quality content here.
Am I starting to sound like a stuck record? Yes, I agree! But now you can see why quality content is so important. It pays off in many ways to invest into Copywriting and SEO. You will get free exposure on Google (organic rankings), you will pay less for Google's Ads and most importantly your customers will be happy because your website will help them find what they are searching for.
Let Google do the hard work for you
Did I mention, that you only pay if someone clicks on your ad? This is called "cost-per-click" or short CPC. Google decides when you appear, and if Google thinks your ad (and website) and the customer's search are a good fit then your ad will be shown. But at the end of the day the customer has the final say and will decide on which ad they want to click on. Then Google applies it's finder's fee, this is referred to as your cost per click. This also means your ad might appear over a 100 times, be seen over a 100 times (impressions), but you will only be charged for the number of times your ad has been clicked on.
Leave it to the pros
Now that we know how Google Ads works and that we use a bid-system for keywords, I would also like to point out that it is crucial to have a Google connoisseur taking care of this part for you. Google Ads is a great tool, but it is also very easy to lose a lot of money by not knowing how to use it properly. Your Google connoisseur will get the most out of Ads so your ad is generating quality leads for a lower price.
Once your ad, or "campaign", is set up and your Google partner has done the necessary fine tuning over the first 2-3 months, the leads you will get from Google Ads will be 5-star quality and worth every single cent you've spent on it.
Get in touch with Monster Graphics to talk about your Google Ads strategy here!
Next month Hugo and I will talk about blogging and why it may be a good idea for you to get your blogging started.