It's no secret that utilising your Google My Business (GMB) listing to it's fullest potential will win you points above your competition in Google Search. Lets discuss how to get your business in the Google 3 pack for local searches.
Do I need be in the Google 3 pack?
Firstly, let's look at whether or not showing up in the Google 3 pack is important to your business. If you have a local business and are looking for local customers then the short answer is yes. If you want your business to show up when a prospective customer searches for "marketing company near me" or "marketing company whangarei [or other location]" then showing up in the 3 pack will be gold.
Alternatively if you provide your services to a wider geographic area from one location (like us) you wont always be able to achieve three pack status for searches outside of your area. Entirely achievable if you have offices in the other areas with corresponding GMB pages setup for each.
How does the three pack work?
Using the above search query of 'marketing company near me', Google will show a list of the top three local results in your area. They key word here is "local" someone searching for the exact same service in Palmerston North will see different results.
See image below for the three pack search results for search query 'website company whangarei'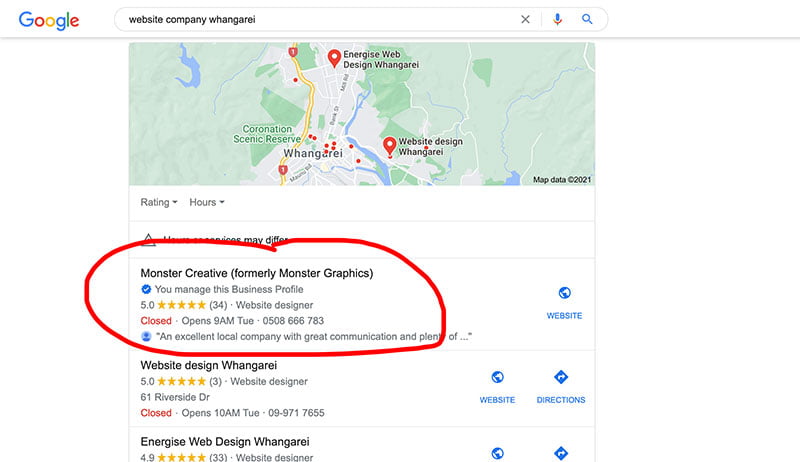 Why do you need to be in the 3 pack?
Google searches with 'near me' on the end have grown more than 200 percent over the last 2 years. Being visible with your correct business information in your Google My Business listing will not only represent your business well, it will satisfy your searches by giving them them the information they need to know with a single click! These days we are looking for information in the shortest possible path and unlike your GMB listing, websites can sometimes be the long path for your viewers. Unlike paid Ads the 3 pack has been named as one of the most trustworthy search results – even more than organic website results!
How do we get to show up in the 3 pack?
Here's the information you have been waiting for, and the good news is – it's nothing overly technical. Follow the below steps and make a commitment to keep your page current with fresh content.
Claim your page, following Covid you may need to reclaim your page
Make sure your setup is complete, including opening hours and categories
Respond to your reviews
Ensure your website is mobile friendly
Your website content must be relevant to the categories in your GMB page
Make regular posts, get likes, comments and shares
Load hi-resolution images on a regular basis, by both you and your customers
If you are a customer of ours already, you will be able to tick off most of the above. For help with the rest book in your website review for a strategy session on how to ensure your business will show up in the most valuable and trusted place on page 1 of Google.