How to uplift your sales by 18%
This month we are going to have a look into how the world-wide web can increase your sales for free, allowing you to spend more time focusing on running your business.
If your business has a modern, mobile responsive website – congratulations! You can tick the first box, the most important part to your effortless sales increase is done. This might leave you thinking "How does that work? I barely ever look at my website and I don't use it as a marketing tool" Don't worry this blog is still very relevant to you!
A simple and very effective step, to promote your business and get more customers are online reviews. It's not witchcraft, doesn't require much time or effort, but what it can do for it business is magic!
What is a customer review?
In a fast-paced world like today, we want to be sure to get the best we can for our money. Before we purchase, we spend a decent amount of time browsing the web, reading what other people think of the service or product we are interested in. We read customer reviews and ratings about products and services online.
Platforms like Google, Facebook and TripAdvisor offer 5-star rating systems to give anyone the opportunity to share their satisfaction, or unhappiness with the entire world. Star ratings are the number one factor used by consumers to judge a business. A 5-star rating would indicate complete satisfaction and a 1-star rating would reflect utter disappointment.
The catch is, you, as a business owner have no influence whatsoever on how people rate you. But we will talk about how to deal with your reviews later on, the good news is that even bad reviews can be good.
Where can customers find reviews of your business
When customers type your name into the search bar, your Google MyBusiness listing will pop up on the right side. It contains your business' details, but also your rating/review score. It shows your Google ratings and also your Facebook ratings. If you don't have a Google MyBusiness page yet, or are unsure if you do, get in touch with Monster Graphics asap.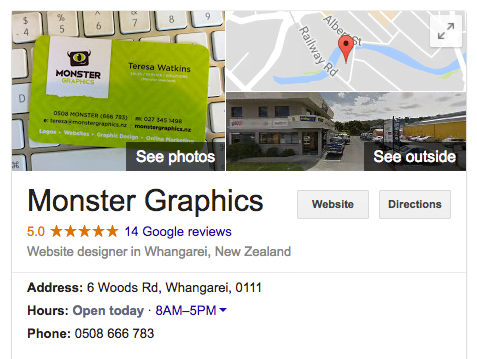 Why are reviews so important?
Online reviews gain more and more importance as 92% of consumers read online reviews and 88% trust reviews as much as personal recommendations. We can all relate to this, constantly connected and using social media with real-time feedback to validate our purchase decisions.
For those who are still not convinced of the impact online reviews have on your business, here are a few more stats to convince you:
7% of consumers believe that online reviews are "important" or "very important" when choosing a local business
51% of consumers will select a local business if it has positive reviews
Over 50% of young people aged 18 to 34 trust online reviews more than the opinions of friends and family
48% will visit a company's website after reading positive reviews
43% of consumers search a business by reviews at least one time per month
23% will visit the business premises directly after reading positive reviews
Reviews produce an average of 18% uplift in sales
Reviews are especially important for local searches as they influence up to 10% of the ranking
9% of consumers will phone a business after reading positive reviews
local searches conducted by consumers often carry high purchase intent
To summarise, if your business has online reviews and they are good, these will do half the job for you, no cost or time involved from your side. Your website traffic will increase, your prospective customer has learned about and qualified your business. They are close to converting into a sale or getting in touch with you.
How to get reviews
Reliability, expertise, and professionalism are the most important attributes to consumers. This is what they will be rating you for. Obviously, your product/service should be satisfying as well! However, if you ask your customers to give you a review, studies show 7 out of 10 will. Well that seems easy, but would still involve you asking every single customer… Easy ways of asking for a review to a larger audience are:
Facebook posts: add a little incentive and ask for a review
E-mail Signatures: add a link and ask for a review
Automated invoices: add links to your reviews
Newsletter: encourage your readers with an incentive taking the time to review you – subscribe to our Newsletter here/let us set your Newsletter up
When you implement the strategy to ask your customers for a rating or a review, you want to make it as easy as possible. When you add links to any of the above make you sure to add a link that leads them directly to the review page. Not sure, what I mean? See how easy we make it by clicking on these below links to give Monster Graphics a review on Facebook or Google. If you're a customer you may as well go ahead and give us a review while you're there!
Keep it real with bad reviews
First off, don't get too stressed about bad reviews! They can actually be a good thing. Believe it or not, you don't want to go for a flawless 5-star rating. I know it's not what you want to hear as a business owner, trying to tune your services and products to perfection. Yet customers are more likely to believe 4 star ratings than 5 star ratings. 95% of consumers suspect censorship or faked reviews when they see only 5-star ratings. "Bad reviews" will give your business authenticity.
Please don't get me wrong and start aiming for bad reviews, one or two low-star ratings will be just enough. Only 14% of consumers would consider using a business with a one or two-star rating, so aim for the 5-stars, but don't freak out when you get a lower score every once in a while.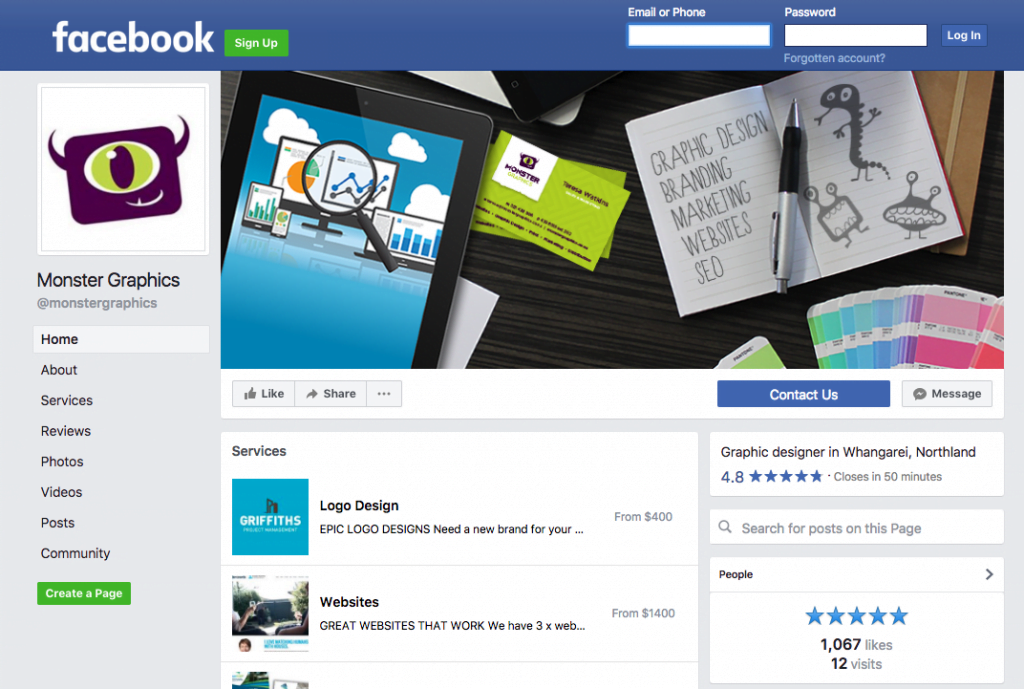 What to do with a bad review?
If you happen to get a bad review, there are a few simple steps you can do:
Respond promptly! As 26% of consumers say it's important that a local business responds to their reviews no matter if they are good or bad
Be real, admit if you made a mistake
Correct inaccuracies
Highlight your strengths
Write like a person, not like a corporation
Take it offline: offer to get in touch via phone, private message or e-mail instead
If you resolve the issue quickly and efficiently, 95% of unhappy customers will come back to your business
I think, we have rested our case: online reviews and ratings are important if not crucial for your business. Take 5 minutes to come up with a strategy that suits your business to secure more and maybe better reviews. It is important to keep them coming as reviews older than one months are perceived as less relevant. More so, 88% of consumers form an opinion by reading up to ten reviews.
Another important fact from the surveys I browsed to write this post: 61% of people are more likely to contact a local business if they have a mobile optimised site! Not sure what mobile friendly is or if your site meets this criterion? Read my blogpost here or simply get in touch with us.
Make sure you get your reviews and you will notice an uplift in your sales.
Monster Graphics can help you to set up your Google My Business page, talk about your reviews and how to optimise your local reach. Call us on 0508666783, we are the friendly Monsters that are here to help!
Sources:
http://www.socialmediatoday.com/marketing/new-study-highlights-importance-online-reviews-local-search
https://www.vendasta.com/blog/50-stats-you-need-to-know-about-online-reviews
https://www.brightlocal.com/learn/local-consumer-review-survey/