If someone was going to offer you a free billboard with your Business name, phone number and address on it; placed at the busiest intersection in town, would you ignore it or co-operate and make sure your contact details are all correct?
It's a no-brainer right? Of course you would co-operate and potentially provide some cool images to make your sign stand out more. Well, Google does offer you a free billboard at the busiest place in town: Google.co.nz and it's called Google My Business.
What is Google My Business?
We like to believe that the mighty Google robot is omniscient, yet he doesn't always get it right and definitely needs a helping hand from us humans. What does this have to do with you as a business owner?
Well, Google likes to solve problems and answer questions for internet users, and most of the time your business is the solution. Wouldn't you want to make it as easy as possible for your future customer to find you online, call you and get directions to your business? Of course you do!
This is where Google My Business (GMB) comes into play. It's like your online business card that Google will show to your prospective online customers. Google My Business is a free feature that you should be using in addition to your website and facebook page. It will display helpful information such as:
your business opening hours
a link to your website
your phone number
business address or radius area you cover
The image below shows how your correctly optimised Google My Business page will show when customers are searching for your business name in Google (using Monster Graphics as an example).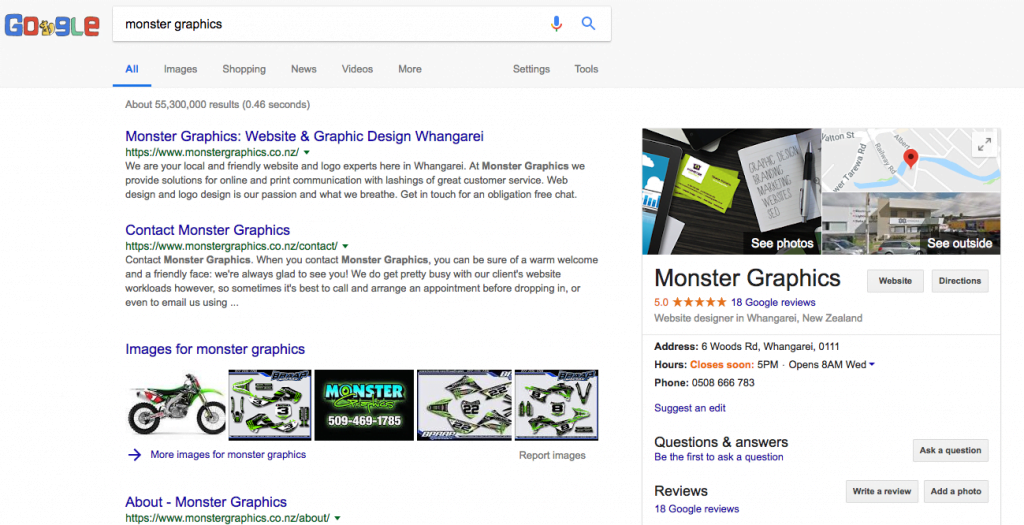 And when customers search from a mobile phone they will have three easy buttons to use to either call you, get directions to your place of business or visit your website.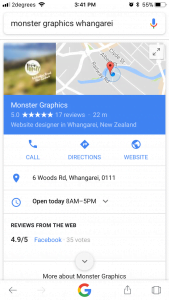 If you haven't setup your GMB page, sometimes Google will set a knowledge graph up for your business. This is based on information that it gathers about your business from the internet and is shown in a box on the right, next to the search results. Most of the time though, this information is either faulty or incomplete. Your business might be displaying an incorrect phone number or could be missing business hours for example.
This is where we come into play, we can set up your listing and make sure all the information that Google promotes is correct, add the missing pieces and optimise it.
Setting up a Google My Business page has several benefits for businesses:
SEO (Search Engine Optimisation)
User experience
Visibility
Having a Google My Business listing will help with your SEO. Especially in a place like New Zealand, where you want to succeed in your local market, Google My Business is a must. It will help Google to understand that your business exists and what it does. Getting reviews will help to get your website further up on the search result page, and also help you to appear on Google maps.
User experience
By making sure that your Google My Business listing is properly set up, you will make it convenient for your customers to get in touch and find you. To avoid any negative experiences you need to ensure that your information displayed on Google is correct.
Your customers will be able to see your area of operation or business address, your days and hours of business, reviews from other customers as well as a link to your website.
Visibility
Google offers you a free way of promoting your business. When someone searches for your business your panel comes up on the right side next to the searches. It features one or two images, like your logo or the outside view of your building. It will also show your location or the area you deliver goods/services in. The Google My Business box takes up about 1/3 of the screen on a desktop. We highly recommend using this free marketing opportunity that will also have a beneficial influence on your SEO and Google ranking.
We highly recommend getting your Google My Business page set up by the pros, simply to ensure that everything is set up correct from the get-go. No matter who sets your GMB up, make sure you have ownership and access to it to avoid potential problems in the future.
If you would like us to set up your Google My Business account, get in touch via 0508 666 783 or email us