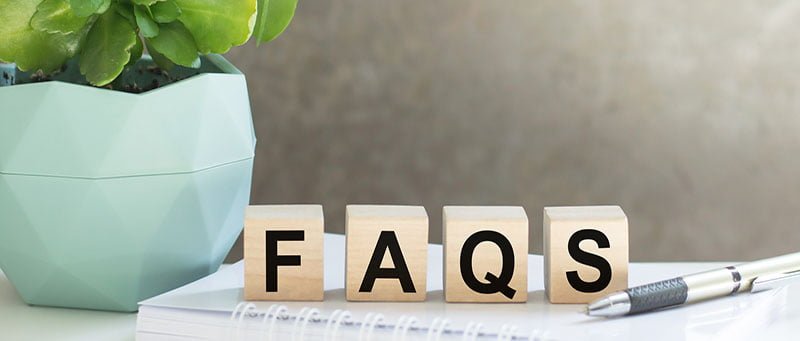 It's no secret that people spend a lot of time researching online, looking for information about a product or service, before they decide to place an order or engage with a business. That's just one of the reasons why it makes sense to have a dedicated place on your website where your prospective clients can find answers to their questions.
FAQ, short for Frequently Asked Questions, on your website summarise just about everything your customers need to know about your business, your services and/or products. There are many benefits to having a well-crafted FAQ page or sections of your website that answers specific questions about your product or business. We've listed the most important reasons why your website needs FAQs here, followed by a few tips and tricks on how to make your FAQ section the best it can be.
FAQs improve the user experience

The main objective of FAQs on your website is to support users by providing quick solutions and valuable information, saving them time and effort.It meets the needs of your audience. Your FAQ page conveniently stores all the answers in one place, and that makes people's life easier. If you use FAQ to provide solutions, answers, contact details, and vital information, it can save your customer service team a lot of precious time, too. When done right, your FAQ section becomes an information hub and go-to reference for your customers.


FAQs build trust and shows transparency

A good FAQ section on your website helps you earn trust by demonstrating expertise in your field or industry. By speaking directly to them, you instantly connect with your ideal clients. Effectively addressing customer concerns builds confidence. By resolving customer problems, you make a great first impression and with that, you gain people's trust.


Customers are more likely to make a purchase or enquiry

Good FAQs put your potential customer at ease. Creating a great user experience and providing answers to people's questions will help alleviate anxiety around a purchase. It provides an excellent opportunity to advance conversations. When people feel they are well informed, without having to reach out to your team or contact you, they'll be ready much sooner to move through your sales funnel.


It's SEO Gold!

Answering frequently asked questions is an authoritative way of sharing content, and that's what Google is looking for. It's highly valuable for the user, which in its turn is great for organic search. Users like short and to-the-point answers, which is what your FAQ section provides. This is also the perfect place to work in relevant keywords on a given topic. A well-written FAQ page gives you the opportunity to leverage user-generated questions, and your questions and answers may even be picked by Google for its Featured Snippets.


FAQs can boost your internal link-building

It's easy and natural to use links in your FAQ section to other relevant pages or blog posts on your website. Links are yet another important Google ranking factor. More about that here. With internal links, you can guide the user through your website's content and toward the goals and results you have set. You are adding credibility and value through even more meaningful content and increase your brand visibility.



What do your customers want to know?
In our experience, the two most important things your potential customers want to know are:
What's the price?
How long does it take?
If you're a little hesitant about giving an exact answer to these questions (there are always variables, right?), don't worry. You can still speak into the question and give an approximation. Let's say you want to know what it costs to have a website created by Monster Creative. Teresa answers it for you here. If you want to know how long it takes for your website to go live, watch this.
Those, of course, are not the only questions you should answer on your FAQ page. What a FAQ page looks like will vary depending on your business and industry, have a think about what questions your customers are always asking.


How do you compile the FAQs on your website?
It's important to understand what your customers really want to know, so take the time to find out. Identify what questions are most often asked by your customers. You can do this by inspecting customer queries that you may have saved in your inbox or ask your customer service staff what type of questions they encounter most. Anywhere from 5 to 20 questions is the standard, but it is better to have too many than not enough.
Format your FAQ section to make sure it is clear and concise. Bullet points are a great way to breakup information into digestible pieces. We like to show all the questions on your FAQs page- this allows your viewers to quickly find the burning question they want to know the answer to. Clicking on each question to expand to reveal the answer – this is called an accordion.
Make sure to update the FAQ section regularly to make sure it all reflects the current state of the business. We have a rule in our office that if were are asked the same question twice than add it to our FAQs page. Regular updates ensures that customers have the right information available to them so they're well-informed about your business.
Oh, and don't forget to add your contact details or a contact form. If the customer hasn't found the answer to their question in your list, make sure that they can get in touch with you easily so that you can help them with their query. If there's nowhere for them to turn to for an answer, you may still lose the sale.
If you are hungry for more, also read our blog that reveals 5 ways to attract the right types of clients through your website or book a discovery call with the team!